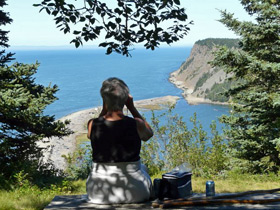 There are more than 18 interesting and well marked trails on Grand Manan covering approximately 70 kilometers of shoreline, cliffside and beaches, that can be hiked or cycled. These vary in length from as little as 30 minutes to day long to overnight.
Detailed descriptions, with section maps can be found in HERITAGE TRAILS AND FOOTPATHS ON GRAND MANAN ISLAND, New Brunswick, Canada, 2006 edition. By Bob Stone, editor.
Bicycles can be rented locally for use along the road system. Numerous unmarked all-terrain vehicle trails also criss-cross the western side of Grand Manan.
Trail Map – PDF (informational only, not meant as a guide but merely where hiking trails can be found.)
In addition, trails are located at the Anchorage Provincial Park and at North Head Campground and Park (formally Hole-in-the-Wall Park) that are not included in the Heritage Trails and Footpaths.
Numerous other unmarked all-terrain vehicle (ATV) trails also crisscross the western side of Grand Manan.
If you are interested in lighthouses, you can use this as a guide: Lighthouse Trail – PDF