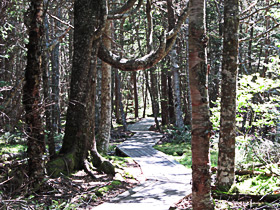 Provincial
• The Anchorage Provincial Park, located between Grand Harbour and Seal Cove, is home to the Grand Manan Migratory Bird Sanctuary, camping, beautiful sand beach, numerous trails (including a board walk through a wooden area that leads to Red Point, a bog walk where parasitic pitcher plants and sundews grow and other wooded trails, complete with bird blinds) and a large seaside picnic area. Tame rabbits abound.
• Red Point, part of the Anchorage Provincial Park, is best known for the geologic contact where two different ages of rocks come into contact along a fault line the length of Grand Manan from Whale Cove to Red Point.
• Castalia Marsh is part of the provincial day parks. The largest salt marsh on the island, it also has a sunken forest, picnic area, platforms to observe birds, and tide pools.